Embracing the beauty of chiplun for a perfect getaway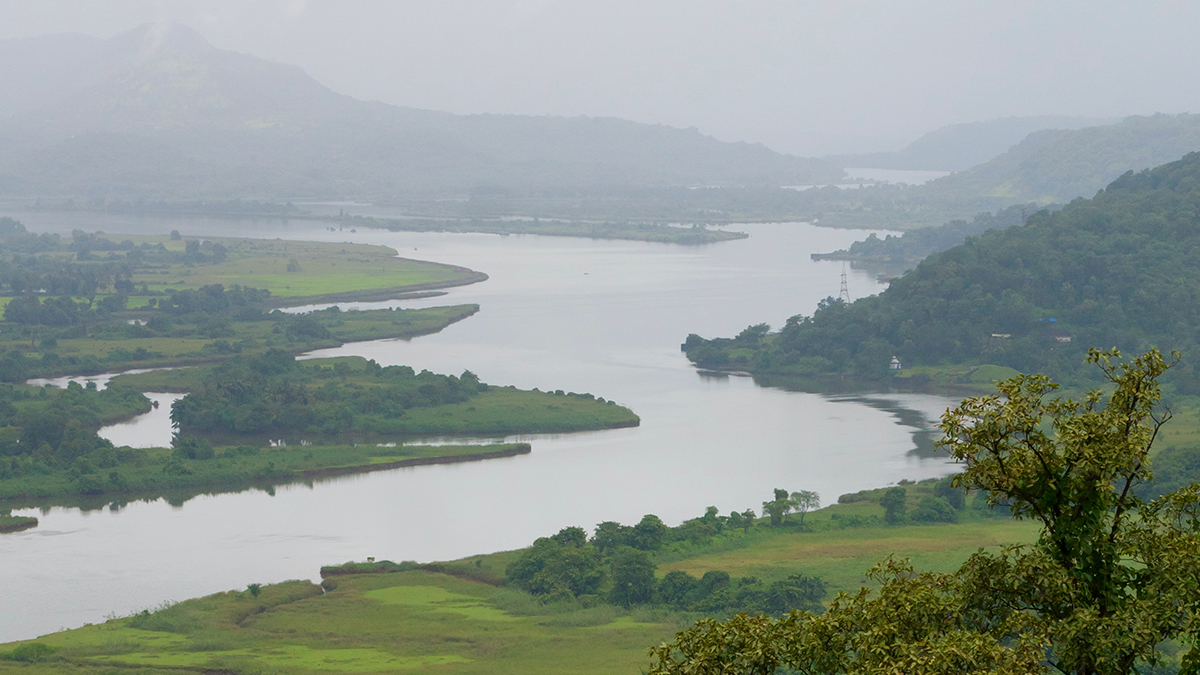 About:
Chiplun is a breathtakingly beautiful place that you simply can't afford to miss. The town is famous for its renowned Lord Parashurama temple, which attracts a large number of tourists. If you're looking for a quick and rejuvenating weekend getaway, the River View Resort is the perfect destination. This popular resort offers awe-inspiring views of the Vashishti River and Koyna Dam, especially during sunset, creating a truly mesmerizing experience.
Moreover, Chiplun holds significant importance as a stop on the Konkan railway route that connects Mumbai with Goa and South India. This makes it an ideal place to take a break and enjoy some fresh air while enjoying the breathtaking scenery before continuing your journey to the bustling city of Mumbai.
Visitors who have had the pleasure of exploring Chiplun describe it as an absolute picnic spot, with the delightful fragrance of mangoes wafting through the air. If you're in the mood for a serene and nature-filled weekend, then Chiplun is definitely a destination that should be on your must-visit list.
How to reach:
·        How to reach Chiplun by flight
Chiplun does not have its own airport. Ratnagiri Airport is the nearest airport to Chiplun. It is around 83 kilometers from the city, which means it takes approximately 2 hours to drive by road from the airport to the city.
Chiplun's nearest airport is New Pune International Airport, which is 148 kilometers away.
Return flight fares from major Indian cities to New Pune International Airport.
·        How to reach Chiplun by road
Chiplun and Mumbai are 320 kilometers apart on National Highway 17. This national highway connects Chiplun to Mumbai, Thane, Ratnagiri, Mangalore, Karwar, and Udupi. Online bus reservations to Chiplun are available from companies such as RedBus. Bus rates range from 400 to 1100 INR, depending on the bus company. Depending on the bus schedule, it might take anywhere from 6 to 11 hours. There are both stop-equipped and non-stop buses available.
·        How to Get to Chiplun by Train
Konkan Railway operates the Chiplun railway station. The station is around 5 kilometers from the city center. The journey from the station to Chiplun takes around 15 minutes. Outside the station, you may simply hail a cab.
Download Yatri the official Mumbai local train app
·        Public transit in Chiplun
The Konkan railway connects most other major cities, and buses will be the most cost-effective and convenient means of transit.
Best time to visit:
Chiplun is open all year, but the ideal time to visit is during the monsoon season for the Sawatsada waterfall and all of the hikes. Because the region has a tropical climate, it is recognized for its beautiful green countryside, free-flowing rivers, monsoon water falls, acres and acres of rice fields, mango farms, and other attractions.
Ø  Vashishti River
It is one of the largest rivers in the Konkan, and the scenery along the river is breathtaking. Sparkling in the early morning sunlight, many people are taken aback, and the majority of them stay in hotels, renting rooms just for the view of the river.
Views of any type of water body are renowned for easing the spirit, and Vashishti is no exception. Beware of crocodiles in this river. No fishing!
Ø  Marleshwar Temple
              "Discover Marleshwar Temple, a sanctum of Lord Shiva, nestled by Dhareshwar waterfall in Maharashtra, India. This ancient cave temple in Chiplun beckons with a climb of 520 steps, offering scenic vistas of the Bav Valley, mountains, and ghats.
Gaze upon the majestic Dhareshwar Waterfall from the temple courtyard. Non-monsoon visits allow for a refreshing dip post prayers. Marleshwar, found in Konkan, is reached via a 50-km NH17 detour followed by a 20-minute hike, boasting Sahyadri mountain views.
Mark your calendars for Mahashivratri and Makar Sankranti celebrations. The temple's origins trace back to Lord Parshuram, with sacred grooves adorning the cave. A trekker's delight, a tranquil communion with divinity and nature
Accessible from NH17, between Chiplun and Ratnagiri, spot the turn before the bridge or consult locals for guidance.
Opt for state buses from Sangmeshwar or Devrukh (30, 18 km). Alternatively, taxis and rickshaws wait to drop you at the temple's base."
Ø  Guhagar Beach
                Guhagar Beach is one of the Konkan region's longest beaches, with a clean and broad expanse of white sand. Guhagar is a city in Maharashtra's Ratnagiri district, about an hour's drive from Chiplun, an old city noted for its mangoes and coconut. Guhagar Beach is a popular picnic place for individuals who want calm beaches where they can kick back and relax.

There is a spacious play area with swings, slides, and see-saws for the youngsters to enjoy. Many tiny vendors serve coconut water and fried food here as well. Guhagar Beach also has water sports facilities, and the beach is deemed safe for swimming. White-bellied sea eagles soaring over the huge sky are another common sight here.
Staying in the adjacent villages that offer lovely homestays is a great way to get a firsthand feel of the region's unique food and friendliness. To the right lies the 4-kilometer-long Enror Jetty.

Guhagar Beach is located near Chiplun, approximately 200 meters west of the Guhagar S.T. Depot. Chiplun and neighboring cities are often served by Maharashtra government public buses (MSRTC buses) and Volvo buses. Private buses and taxis are other easily accessible modes of transportation.
Ø  Koyna Dam
              The Koyna Dam is situated between the Sahyadris in the Western Ghats and is built on the Koyana River, which originates in Mahabaleshwar. The huge structure covers an area of 891 square kilometers. The route from Chiplun to this location passes through spectacular deep woods, plateaus, lush green meadows, and Navna waterfalls.

It is not permitted to visit the dam however, visitors may get a permission letter issued in Pune. One of the most popular activities is to spend the dawn and sunset beside the Koyna dam and its surrounding Nehru Park or to stay at the MTDC's Koyana Resort.
With sufficient clearances obtained before the visit (from Pune), a provision is made to carry visitors on a boat to the center of the dam. Each boat can accommodate 10–15 individuals, and boating excursions are provided by both government agencies and commercial businesses. Private businesses charge far higher rates than government authorities but are open at all times, as opposed to official authorities, which have set hours. From the ship, you can view the dam's massive entrance gates.

Satara Railway Station, which is around 90 kilometers distant, is the nearest railway station to Koyna Dam. The journey from the railway station to Koyna Dam takes around 1 hour and 45 minutes. Buses run to Nasarpur Bus Stop, which is 162 kilometers distant and takes around three hours to reach. Keep in mind that tolls are charged on this route.
Dated August 17, 2023