Exploring the charms of daman's beaches and culture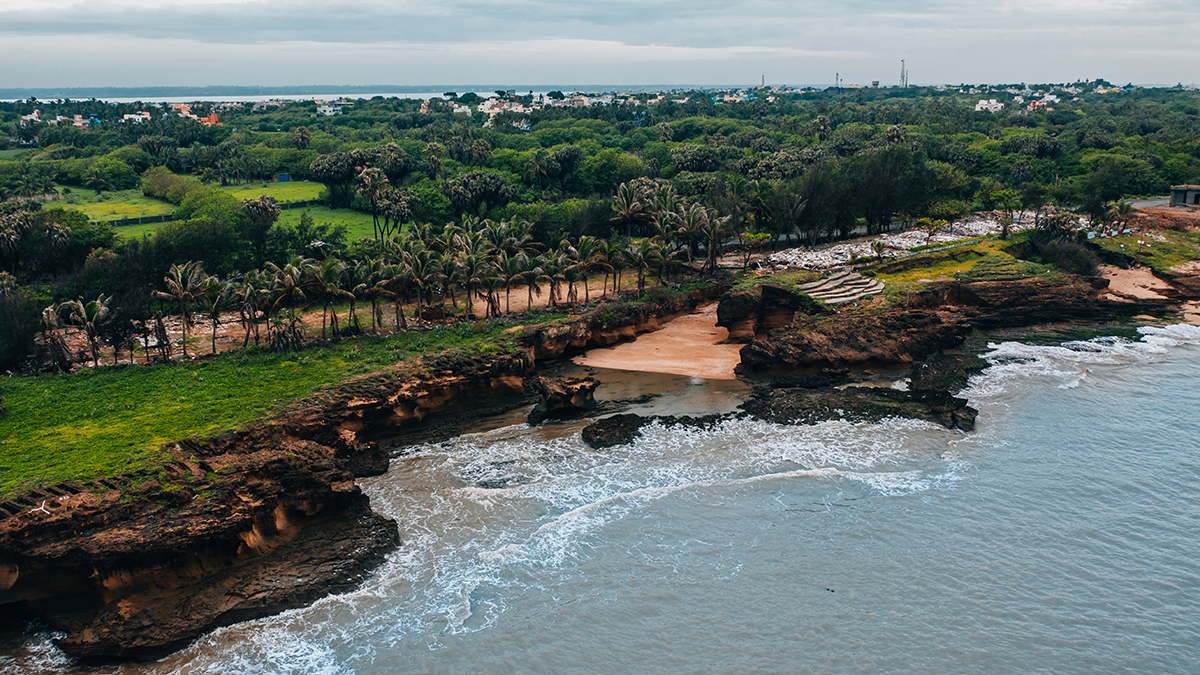 About:
Because of its calm beaches, flora, amazing natural beauty, and, most crucially, its easy availability of cheap alcohol, Daman is a popular resort among young people and even a refuge for those in Gujarat.
Daman is a wonderful tiny city surrounded on all sides by Gujarat, Maharashtra, and the Arabian Sea. The region has a long history and a diverse culture. Its origins date back over 2000 years. The present is painted in bright, simple, and celebratory colors. The beaches in the region make it stand out as a center of natural beauty with a hint of enjoyment. The shop setting here enriches the visiting experience with leather products, high-end liquor brands, and artisan items.
How to reach:
Daman is in no way directly connected to the rest of India. Only 13.2 kilometers away from Daman, in Gujarat, lies Vapi, the closest station for both trains and automobiles. The closest airport for air travelers is Surat. Via NH 48, Daman is around 123.2 kilometers away from the Gujarati city of Diamond.
Best time to visit:
The best time to visit Daman is between October and April when the weather is good and the atmosphere is lovely. Daman has a tropical climate due to its proximity to the Arabian Sea, with moderate winters and rainy summers. Although the Monsoon season is ideal, the severe rains in this region may make the journey unpleasant.
Devka Beach:
Devka Beach is a sight to behold. This, like so many other Daman beaches, is vast, gorgeous, and relatively unspoiled.
The area features clear blue waters, well-kept coastlines, and plenty of natural beauty for everyone. There is also a separate Amusement Park here with large fountains and a play area for children.
Mirasol Lake Garden:
Mirasol Lake Garden is a man-made wonder that is a major tourist destination in the neighborhood.
The location is quite tranquil and peaceful, surrounded by a gorgeous lake and two islands connected by a bridge. This lovely park is enhanced with boat rides and fountains. The garden also provides amenities for other activities such as computer games and a toy railway, making it a popular picnic location. With a water park right next door, this stunning lake garden is also a popular location for film shoots.
Lighthouse, Daman:
The Lighthouse will undoubtedly make an impression on you. Every traveler who visits Daman and Diu falls in love with this location.
The Lighthouse standing tall provides a spectacular view of the sunset. It is a notable landmark in town and is housed within a fort. From here, you may also have a great view of the maritime traffic.
Jampore Beach:
Jampore Beach is a popular tourist site in Daman. The beach, which is 5 kilometers from the Moti Daman Jetty and is remote, is well-known for its black, mud-colored water. It is a wonderful setting for those who want peace and quiet. Because it is away from the hustle and bustle of the city, the beach is an ideal place to decompress. The region is windy and has an overgrown appearance due to the abundance of trees.
Simply dive into its waters, drink your heart out, and come home with unforgettable recollections. Take a walk down the beach to capture the splendor of the sunset, eat the most scrumptious food, and participate in every fun-filled beach sports activity. Visitors may also go shell scanning or create sand castles. Come here with your family for a relaxing weekend. Enjoy
·         Activities at Jampore Beach:
Jampore Beach is a beach bomber's paradise with something for everyone. Everyone, from adults to children, may have the time of their lives gathering beautiful seashells and basking beneath the warm rays of the sun.
Adults: Fly through the sky with parasailing and paragliding, speed over the beach in buggies, and feel like a king on a motorboat ride!
For children, It keeps camel and luxury horse cart rides, as well as various ATV rides, in its closet. Children are insanely pleased when they run and fall into the wet mud. As a result, Jampore Beach is an excellent choice for you and your child.
 Download Yatri the official Mumbai local train app
·         Best Time To Visit Jampore Beach:
Visiting the place from September to May is beneficial for visitors, as one can easily walk through the water and enjoy the sunset during the low tide. Since Christmas is celebrated here with a spirit of joy and excitement, even December is a good time to visit Jampore Beach.
·         Delicious Food at Jampore Beach:
We Indians never miss the opportunity to let our taste buds linger over the beautiful flavors. Without good meals, a journey would not be complete. One may easily satisfy their appetite at one of the many vegetarian and non-vegetarian food kiosks on Jampore Beach. The vegetarian menu includes vada pav, boiling chickpeas, sweet corn, chana bhel, and other delectable meals at a reasonable price, while non-vegetarian options include omelet, fried masala prawns, Pomfret, etc. Daman is renowned for selling booze at low prices. It provides a selection of refreshments at several stands erected on the beach. Coconut water mixed with vodka is one of the must-haves in the area.
·         How To Reach Jampore Beach:
Nearly 6 miles separate Jampore Beach from the Nani Daman taxi stop, where passengers may reserve a ride to Nani Daman Jetty. The boat journey to the beach, which is 5 km distant from Moti Daman Jetty and takes around 2 minutes, is located there. A longer autorickshaw ride is possible.
There are lots of parking spaces close to Jampore Beach if you intend to get there in a private vehicle.
Dated August 21, 2023