Discover Malshej Ghat where mountains, waterfalls, and flamingos await!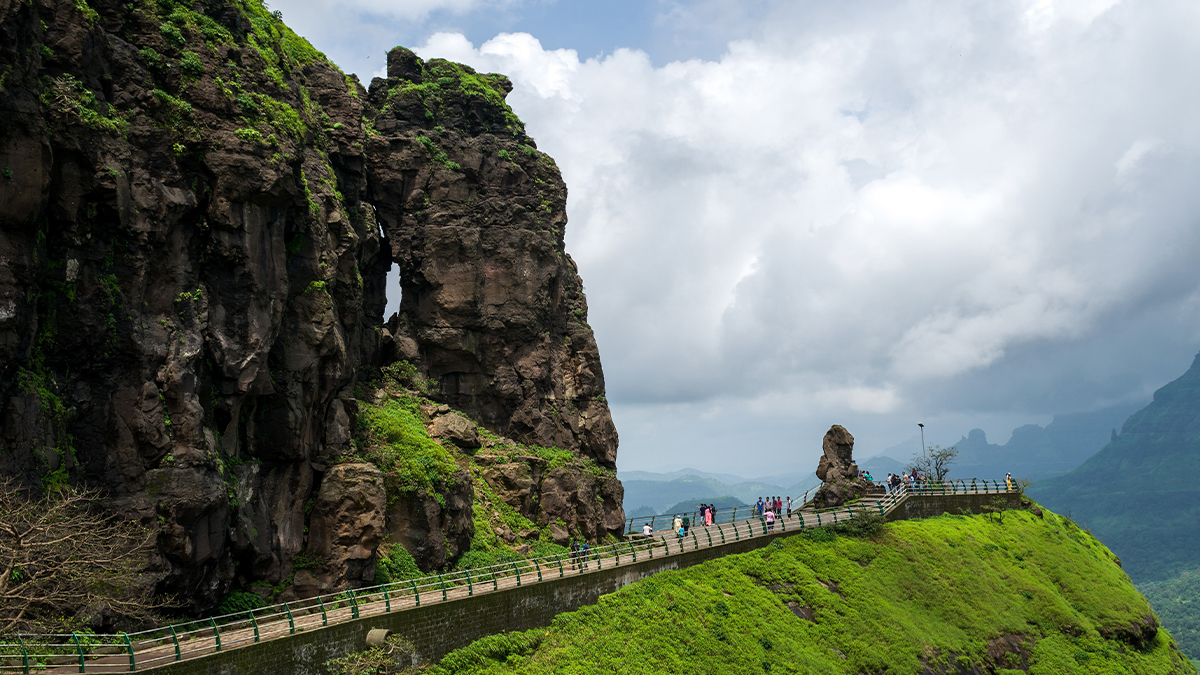 About:
Malshej Ghat, located in Maharashtra's Western Ghats, is not only a mountain pass but also a popular hill station. Its numerous lakes, gushing waterfalls, towering mountains, and thriving flora and wildlife make it an appealing destination for people who appreciate hiking, trekking, and immersing themselves in nature's splendor.
Malshej Ghat, a quiet refuge, provides respite from the urban hustle and bustle, making it a popular weekend getaway for inhabitants of Mumbai, Pune, and Thane. The Ghat, famous for the yearly migration of pink flamingos between July and September, takes on a lovely atmosphere during the monsoon season, decorating itself with lush green hills and the presence of these unusual birds.
Malshej Ghat is a nature lover's delight, with enchanting waterfalls, finely built dams, and towering forts. The Harishchandragad Fort, a popular trekking destination, stands tall amid this terrain, providing a spectacular hiking experience.
How to reach:
How to Get to Malshej Ghat by Plane
The Chhatrapati Shivaji International Airport in Mumbai is the closest airport to Malshej. One may fly to Mumbai, which is well-linked to all major cities in India, and then travel by road or rail to Malshej. Tourists may also fly into Pune International Airport.
New Pune International Airport is 57 kilometers away from Malshej Ghat.
Find flights to New Pune International Airport.
Return flight fares to New Pune International Airport from major Indian cities
How to Get to Malshej Ghat by Car
Malshej is linked to these important cities by the Mumbai-Pune Highway. Malshej can be reached by regular state transportation buses from Mumbai, Pune, and Panvel.
How to Travel by Train to Malshej Ghat
Malshej does not have a railway station. Traveling via Kalyan, which is 85 kilometers distant from Malshej, is more convenient.
Malshej Ghat local transportation
Private automobiles are your best choice for getting around the area, however, strolling around the area may also make you feel cool.
Download Yatri the official Mumbai local train app
Best time to visit:
The ideal time to visit Malshejghat to experience the dams, Fort, and sightseeing is from October to March. However, here in the monsoons, one may take in the beautiful natural waterfalls and overflowing dams. However, because of how slick the slopes may get on wet days, hiking is not advised.
Other nearby places:
Malshej Falls
Rain, mist, fog, and flowing waterfalls in the wooded forest combine to make the soothing and interesting Malshej waterfall.
A plethora of descending waterfalls decorate the ghat's outstanding splendor. Some waterfalls are so large that they tumble onto the road.
Pimpalgaon Joga Dam
The Pimpalgaon Joga Dam is a massive 5-kilometer-long structure built over the beautiful Pushpavati River's plain waters. It stretches across a vast region of backwaters, which are among the most beautiful sights in town.
People-moorhen, pitta, alpine swift, whistling thrush, green pigeon, quail, and pied-crested cuckoo are among the many bird species that may be spotted here. The backwaters of this gorgeous dam might be home to a breeding population of migrating flamingos.
Harishchandragad:
Harishchandragad is a hill fort in Maharashtra, located at a height of roughly 4670 feet in the Ahmednagar district. It is well-known for its trekking path and is one of the most prominent Bhandardara tourist destinations. Harishchandragad Fort Complex also has caverns, temples, and a lake, making it a great tourist destination.
There are various temples devoted to Vishnu and Ganesh within the fort. The monument dates back to the sixth century and is located at an elevation of 1424 meters. Due to its altitude, it is frequently indicated on a variety of walking paths in and around the region. The fort is home to Maharashtra's second-highest peak. The Konkan Kada, also known as the Konkan Cliff, is a semicircular rock wall.
How to reach Harishchandragad Fort
Train: Due to its strategic location on the Kasara train line between Mumbai and Gujarat, Kalyan enjoys robust railway connectivity to both the northern and southern regions of India. The consistent availability of passenger trains offers the advantageous convenience of seamless transportation.
Road: The Khireshwar base community is accessible by road, and the journey is hassle-free. State-operated terminal buses frequently ply the route from Kalyan to Khubi Phata. Following this, a trek of 7 kilometers leads to the base settlement. Additionally, the Nagpur-Aurangabad-Mumbai highway establishes a vital road link between Kalyan and Mumbai.
Places of Interest in Harishchandragad Fort
The fort's highest point, known as Taramati Peak or Taramachi, provides a breathtaking panoramic view of the surrounding farmland and woodland. A lovely Saptatirtha Pushkarni temple may be seen here. The Kalchuri dynasty is claimed to have erected this temple devoted to Lord Vishnu.
Kedareshwar Cave is an intriguing cave with a big Shivlinga surrounded by water. The patron god of the fort was most likely Shiva, as there are several Shiva lingams at the peak. There are a few more temples in this area, including Nageshwar and Harishchandreshwar. Another local attraction are the Buddhist caves. Some of these caverns are suitable for camping.
Ajoba Hill Fort:
The Ajoba Hill Fort in Maharashtra is a famous location for trekking and rock climbing among beautiful nature and scenery. Darkoba Peak, which is close, is also popular with nature enthusiasts, rock climbers, and trekkers.
Dated August 29, 2023