Yatri: 5 Ways The Yatri Railways App Will Improve Your Daily Commute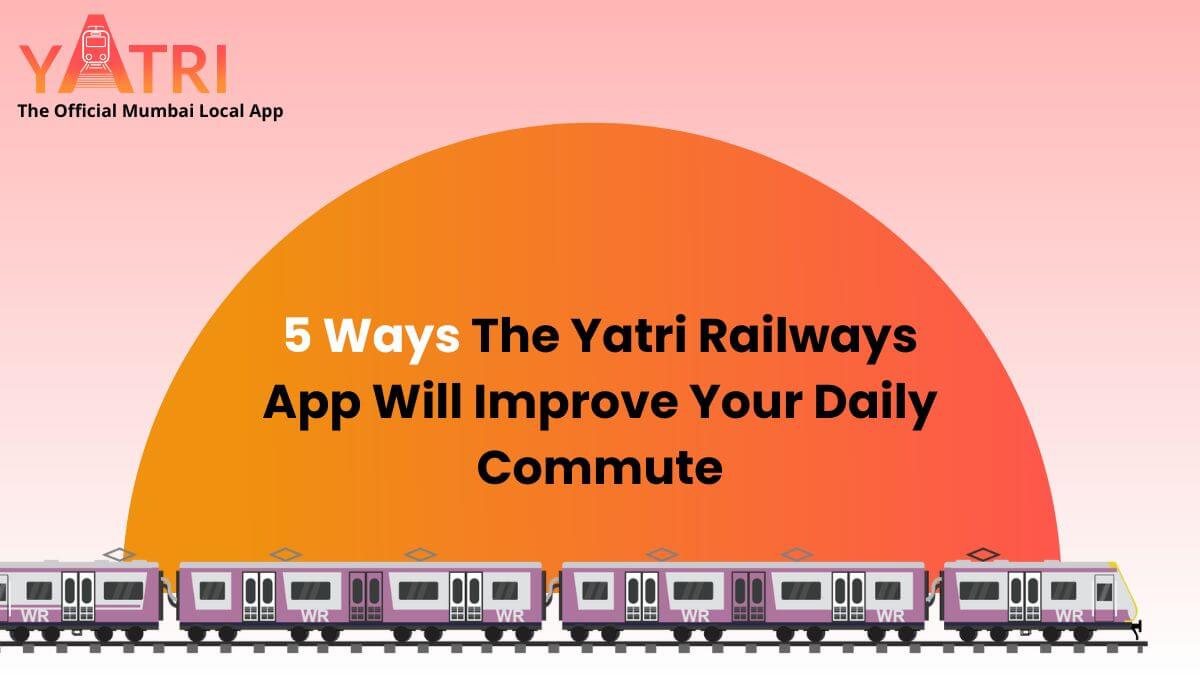 If you are a resident of Mumbai, train travel would have become a hobby. Be it your college, your office, or just some regular sightseeings, train travel becomes an integral part of your life. Train travel, though, can become a tedious task if you do not plan your commute well in advance. If you are a regular passenger, you should be accustomed to ticket fares, train timings, mega blocks, station amenities and all such things. We live in a modern tech society now as there are tons of app to ease things out. But Yatri Railways app makes to the top list when we talk about Central Railways.
Yatri Railways app is not just a regular train timetable app but it's a lot more than that. College students, working people or senior citizens, anyone can use this app. This app's clean and crisp interface, neat user experience, robust build and glitch-free navigation would make anyone fall in love with this app. Some of the features of this app are noteworthy as you can get any information on the go. Let us understand how these awesome features will improve your daily commute.
1. View Live Location of the Trains
You can blindly trust the Yatri Railways app for the perfect and up-to-date schedule of Mumbai Railways. This feature will help you to always stay in sync with the official railway's timetable.By far the most useful feature of Yatri is the access to live location of the local trains, where you can see the arrival, departure and movement of the trains and plan your journey accordingly.
2. Share Location of the Locals
In addition to the above mentioned feature, you can also share your live location from the train to your friends and family to ensure safety. This way, your loved ones can keep track of your journey and be aware with your where-abouts in case you are traveling late night or alone.
3. Read Live Announcements
Whether it's a working day or your weekend, you won't miss any announcements from now on. Through this app, you can easily update yourself with all the live announcements made by the Mumbai Railways. Be it train cancellations or mega blocks, you will be able to read all live announcements inside the Yatri Railways app.
4. Set Favourite Trains And Routes
If you are a daily traveller, you must have had the experience with the daily checking of train timings and train routes. It's a tiresome task due to which you might miss your train if you're in a hurry! Say no more, as the Yatri Railways app allows you to add your daily commute train to the favourites list. You can set your regular trains and specific routes to favourites and easily access them with just a single click! You will also get regular alerts and notifications when your train is about to reach the station.
5. Get Details Of Station Amenities
This should be a mandatory feature that every railway's app should have as this helps a train passenger in so many ways! Yatri app cares for its passengers as this feature allows you to get information of all the station amenities nearby. If you need some urgent cash from the ATM, water purifiers, sanitary pads or just some information regarding parking space near a station, you can open our app and easily access all such information.
Yatri Railways has always been eager to serve its train travellers and assuage their train travel struggles. Our app ensures you have a safe and hassle-free journey with a peace of mind. Now that you know how our app improves your daily commute with such cool features, hurry and download the app now!
Dated July 28, 2023