Yatri: How To Find Any Train Information With The Yatri Railways App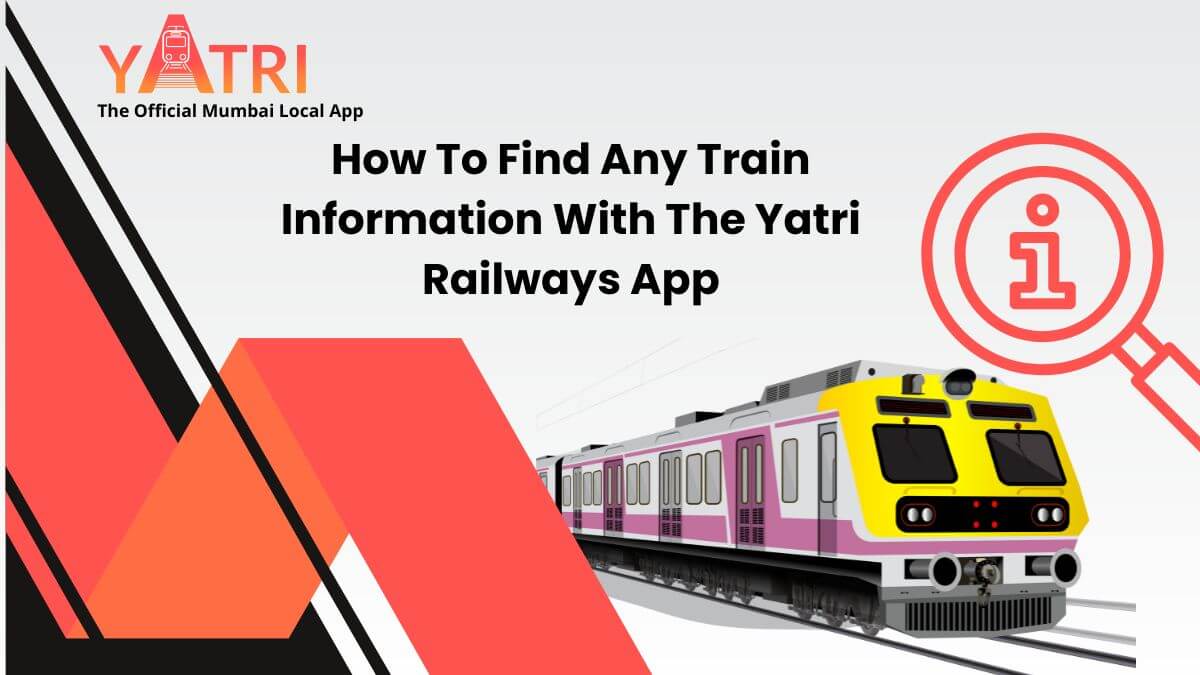 With the advent of the latest technology, it has become easy for us to find any information and keep ourselves updated. Their grit and determination allowed them to design and develop an app that would benefit all the railway passengers. Introducing the Yatri Railways app, a one-stop-for-all railways app you would ever need if you are a train traveller. It's not just a regular train timetable app but a lot more than that. Be it the train information, online train status, information regarding station amenities, or E-Cart booking, we cover all.
The Yatri Railways app helps you to access any train-related information without any hassle. It's designed in such a way that any individual can use our app. We make sure right from the college students, working people to the senior citizens and differently-abled individuals, everybody can use our app on the go. Let's find out how easy it is to access any information with the Yatri Railways app one by one.
Mumbai Local Timetable and Live Location: If you want to find out the latest arrival and departure time of trains, you need to first stay in sync with the Mumbai railway's official timetable. You can access the accurate live location of the trains and share them with your friends and family as well.
Search Trains: You can easily search trains from all the central, western and harbour lines and get the arrival time of your train. Through our app, you can easily find at which platform your train is going to arrive and at what time you will probably reach your destined station.
Station Amenities: When you click on Station Amenities, you will be able to select your current station and get information on all the nearby station amenities. You can then search amenities like food stalls, drinking water, ATM or just view and select from the available options.
Railway Penalties: All the penalties related to railways are covered in our app. You can read the details of various railway penalties and can avoid paying hefty fines.
Railway Concessions: We provide you with a list of all the available railway concessions for differently-abled passengers, patients, senior citizens, students, etc. You can read and avail yourself of the benefits of the same from nearby ticket counters.
Ticket Fare: Select your source and destination stations and get access to the ticket fares on our app. You can view the fares of a regular ticket, AC ticket, monthly, quarterly and yearly pass as well.
Live Announcements: Read the latest announcements made by the Central Railways directly from our app. You will be able to view announcements related to mega blocks, train cancellations and other railway news as well.
Emergency Contact Details: In case of railway or medical emergencies, you can open our app and get the various helpline numbers easily. You can find all the helpline numbers of ambulances, blood banks, child helpline, control room, etc.
E-Cart Booking: Yatri Railways app provides details regarding E-Cart booking as well. Select your station and view all the details of E-Cart services - its availability, fares and booking contact information.
The Takeaway
The Yatri Railways App provides you with any information related to Central Railways and its services. We strive to ease your train travel so that you can have a safe and hassle-free journey every time. So, open the play store or app store and download the Yatri Railways app now!
Dated July 28, 2023